My name is Lao, father of Nhu. My family has 5 people including parents, 2 children and 1 grandmother. We live in Nam Giang district, Quang Nam province. This commune is located in quite remote mountainous area where streets are too hard to move easily. I and my wife try to work on the farm and raise some chickens to earn money and cover every day needs of my family. Thus, we can't spend much time to take care our children and let them stay with my grandmother all day.
Nhu is my oldest child. She is a first grader. My second child is studying in kindergarten. Unfortunately, Nhu's mobility is not the same with normal children. Her left leg and left arm are club-footed and club-handed. That has led to many difficulties for her in study and daily life. She can't walk steadily and always needs our help for every activity such as drinking, wearing cloths and so on. We feel very confused because we don't know how to support her effectively. We also asked medical staffs of the commune but they could not consult us due to lack of skill and knowledge of rehabilitation.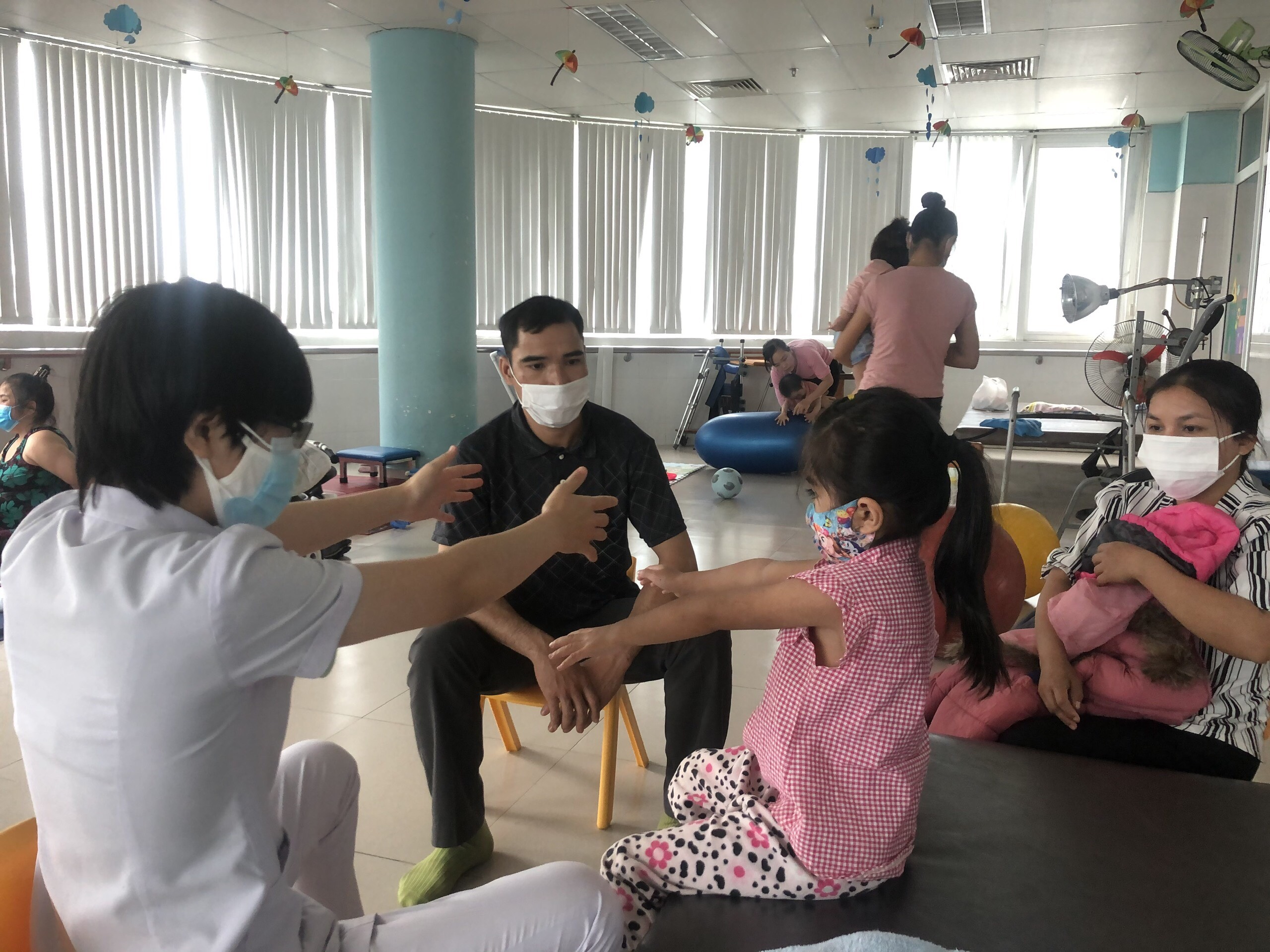 Fortunately, when Nhu has started to study in primary school in 2020, my child received many supports from VNHIP's project and the school's teachers. In 2020, I had a chance to take my child to Da Nang Orthopedic and Rehabilitation Hospital for checking her disability. This was the first time we moved over 100km and felt nervous about where to stay and how to do in this hospital. However, VNHIP's staffs helped us to find a nearby place to stay and guide us during my child's physical examination. From then, we could discuss with doctors easily and received many useful advices.
When doctors guided us how to do rehabilitation at home for my child, VNHIP's staffs recorded by videos and sent to us. Thus, we can practice for Nhu at home through these videos. Moreover, at school, Nhu is taken care more carefully. Her head teacher, Ms. A Lăng Ty, always keeps a close watch on her study and extra activities such as exercises, singing and dancing. She usually shares to us about my child's situation and also advises us how to support her at home and not to put much pressure on her if she can't complete homework. We are really thankful for all things because our child is loved and cared.
Thanks to these supports, Nhu has become more interested in study. In addition, her mobility and daily activities are more and more improved after practicing rehabilitation exercises as doctors guided.
"Until now, she can walk steadily on her both feet, wear cloths and drink water by two hands. Although there are a lot of difficulties and challenges, we have more motivation when getting supports from VNHIP's project and teachers. I hope that my child will improve more in the future." Mr. Lao said.